What is walking therapy? 
Walking therapy is simply you and your therapist walking and talking, rather than meeting in a counselling room or online. It is not exercise, but many people experience physical as well as psychological benefits from engaging in traditional talking therapies whilst walking in green surroundings. In fact, there is abundant research which shows that just experiencing green spaces has a direct effect on well-being and can reduce feelings of depression and anxiety. By engaging in therapy whilst doing this, you can gain benefit from both. 
Some clients also find it easier to engage in therapy whilst walking because they are side by side with their therapist and in an open space that they may feel is more relaxing. In outdoor spaces difficult feelings may feel less intense, more manageable and easier to be with.    
Your therapist may also be able to make use of the space to show you grounding techniques such as mindfulness or deep breathing which you can use away from therapy to manage your mood. 
Finally, some people feel more comfortable having therapy outdoors due to concerns over Covid.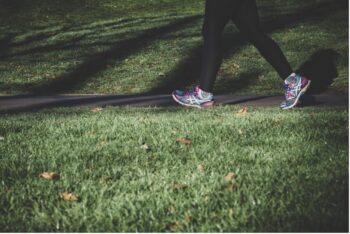 Why are you being offered it? 
You are being offered walking therapy because you have expressed an interest in therapeutic support and walking therapy may be suitable for you. We will arrange an initial call with you, where we will ensure you understand what is involved and are able to manage moving through the space that we will use.  
Please let us know about any concerns you have about your mobility and any medical conditions that you think might impact your ability to engage in walking therapy. 
We might ask you whether you have any particular experiences of green spaces which are important to you, or you think we should know (for example, positive childhood experiences of going to the park, or fears associated with the outdoors). 
What to expect 
Before each session, your therapist will email you a questionnaire for you to complete and return the day before your appointment. This can be useful for thinking about how you have been feeling over the past week and may be a helpful prompt for what you would like to talk about. 
Your therapist will make arrangements directly with you to meet at a particular time and place. The session usually lasts 50-60 minutes. Your therapist will usually have decided on a suitable route, although you may agree between you to vary it at different times.  
The place we are initially working in is:
Cannon Hill Park
Edgbaston  
B12 9QH Birmingham
There is a café and toilet facilities, for your comfort either before or after the session. Your therapist will keep track of time during the session, so you don't need to. 
Initially, walks will be on firm paths, rather than tracks or trails, to avoid distractions. There are a number of places where it would be possible to stop and sit, if you want to, for example, if you feel the need because you become distressed. Your therapist will try to ensure that if this happens, you are away from crowds. 
Preparation 
You are advised to wear suitable footwear, such as trainers, walking boots, wellingtons, although what is suitable will depend on the weather and time of year. 
You should bring something to keep you dry if it rains, such as a waterproof jacket or an umbrella. Please also think about wearing suitable clothing for the temperature, so that you are not too hot or cold. 
In the summer you may want to bring a hat and sun lotion. 
We advise you to bring a drink with you (takeaway drinks are available from the café) or a bottle of water. For reasons of hygiene (particularly Covid) your therapist will not provide a drink. 
Weather 
Obviously, we can't predict the weather and different people will have different feelings about what conditions they are prepared to walk in. However, we will usually assume that sessions will go ahead in damp or cold conditions, even if rain is expected.  
If rain is torrential, then your therapist and you can decide whether the session should be postponed. In case of snow, it will depend on how much there is and how icy the conditions – we obviously don't want either you or the therapist to be at risk of slips!  
All sessions will be held within daylight hours.  
Confidentiality 
Confidentiality is an important part of the therapeutic relationship, as explained in our contract. However, there are some limits on how it can apply when out walking in a public space.  
You can discuss with your therapist what you feel you want to do at the very start of your sessions and agree this between you. You can change what has been agreed at any time.  
However, we suggest that the appropriate approach would be for you each to agree that you will simply acknowledge someone you know and then move on. It would rarely be appropriate for you to engage in conversation with that person whilst in a session. 
Boundaries 
Boundaries are an important part of the therapeutic relationship. As a walking therapy session may feel more relaxed than a session in a counselling room, you may feel that your relationship with your therapist is more relaxed. However, you must remember that it is a professional relationship, not befriending. Therefore, your therapist will maintain a professional distance from you outside of your sessions.  
You and your therapist will come to an agreement about how you would both like to interact outside of sessions.  
If you come across them before or after a session, they may be with another client or on a break and we would ask you not to approach them unless there is an urgent reason to do so (for example, if they are in the café and you need to tell them you can't attend your session). Please do not be offended if they don't acknowledge you when they are out and about.  
Useful information 
You can travel to Cannon Hill Park by bus. Bus numbers 1, 35, 41,45, 61 and 63 all stop near the park. The 1 and 35 stop on Edgbaston Road, which runs alongside the park. The 41 and 45 stop on the Pershore Road, from which you would turn right onto Edgbaston Road and proceed to the main entrance. The 61 and 63 stop on the Bristol Road from which you would turn onto Edgbaston Road, cross Pershore Road and proceed along Edgbaston Road to the main entrance. 
There is parking at the main entrance which costs £2.60 for up to 4 hours. There is free parking at the other end of the park, by Holders Lane Fields (off Holders Lane) but you need to allow 10 to 15 minutes to walk through the park to the main entrance to meet your therapist. 
Toilets are available in the Midlands Arts Centre (MAC) and in The Garden Tearoom. 
What if...?
What if I become distressed because of what I am telling my therapist? 
Your therapist is used to dealing with distress and will do everything possible to help reassure and calm you, such as taking you to a less busy place in the park or finding a place to sit.