Information, Advice and Wellbeing Support Officer
Job placement summary
This is a part-time role for 6 months, working as part of our Information advice and wellbeing team (IAGW) team. You will be the first point of contact for disabled people their families and their carers. Responsible for supporting the IAGW team to triage enquires and filter them to the appropriate teams. Booking appointments, completing satisfaction surveys working with the team to report feedback appropriately.
You will be responsible for maintaining accurate and up to date records and file management. Using our CRM system to input data and pull service reports to help support the senior officer to report service KPIS that feed into the wider deliver policy of DRC.
Responsibilities and Duties
To apply a range of skills to provide an excellent service to customers including answering incoming calls, responding to emails and greeting customers face to face.
To provide a first response service to disabled people, families, carers, organisations, and individuals contacting DRC and its Information Helpline through the provision of high quality, accurate and impartial triage and signposting
To Market and promote DRC and its Information and Advice Services through a range of traditional mediums to increase referrals to the service and increase brand awareness.
To work effectively as part of a team as well as on own initiative, developing excellent communication skills.
To deal with all enquiries in an effective and efficient way.
To accurately maintain records, both manual and computerised.
To meet agreed targets and helping to support the delivery of DRC's objectives.
To undertake other delegated duties as may be required from time to time, which are commensurate with the nature and grading of the post.
To comply with all legislative requirements, together with all DRC policies, procedures, and reasonable management instructions.
Working with the Chief Executive, to organise meetings and provide administrative support to the Regional Stakeholder Networks in both the East and West Midlands
To develop communications and consultation mechanisms with members
To undertake research and write reports for the Chief Executive.
Person specification and experience
Great communication and interpersonal skills.
Commitment to delivering focused customer services.
The ability to take ownership of tasks and work accurately and flexibly within a busy team.
An enthusiastic and positive approach.
Good organisational skills.
The ability to deal with a range of situations and respond to customers' needs.
The ability to use IT including Microsoft Office and social media platforms.
Due to the nature of this post it is subject to a Disclosure and Barring Service (DBS), criminal records check.
Details of employability support (training opportunities/mentor)
Health & Safety:
Safeguarding Children & Adults
COSHH
Office Safety
Risk Assessment
Stress Management
Compliance & Soft Skills
Learn My Way – internet essentials.
Communication
GDPR
Information Security
Teamwork
Time Management
Employment Skills
Wellbeing & Resilience at Work
IT Proficiency – MS Office/Teams/Zoom etc
Business and Customer Awareness
Any additional training relevant to the role and to support the future employment opportunities for the young person that will be identified during the placement.
Information, Advice and Wellbeing Support Officer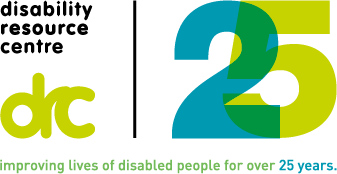 Disability Resource Centre
25 hours per week / Minimum Wage for your age group
This position is funded as part of the Government Kickstart Scheme and is open to 16–24 year-olds on Universal Credit.

If you would like to apply, please speak to your Work Coach at your local Job Centre who will check your eligibility and provide details on how to apply.